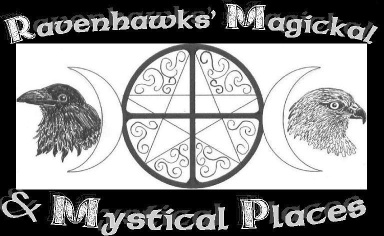 Imbolc Blessing and Happy Valentine's Day
Welcome to the first newsletter of the new year. I know that everyone has probably experienced Mother Nature at both her naughtiest and nicest since Yule. For some she was naughty and nice all within a 48 hour period. I was introduced to Michigan' prolific snow making abilities. Very impressive however after comparing them to Up State New York and NE PA I must admit that it made me feel right at home. Many people were complaining about the continuous snow and cold I love every minute of it. Having a nice wood burning fire place does not hurt my enjoyment of the winter months at all. It actually brings back fond memories of my childhood and sitting in front of a huge fireplace with a blazing fire and listening to my grandmother tell stories of her youth.
I have renewed my acquaintance with the kitchen since I moved to Michigan. My cottage is usually filled at least twice a week with the smell of baking cookies, breads, pies and cakes. I have been accused of contributing to the waist line of several of my neighbors.
In this issue of the news letter we will try out a new format. I plan to keep it as informative as possible without repeating the info that can be found in previous issues.
February is a busy month, Ground Hog Day, Imbolc/Candlemas, Valentine's Day as well as presidents day all come in this month that marks the middle of the dark season of winter.
Also I would love to hear from my subscribers. With questions, comments, recipes and if there is information you would like to see addressed in this news letter please let me know.

What Do We Celebrate???

Imbolc is one of the four principal festivals of the Irish calendar, celebrated among Gaelic peoples and some other Celtic cultures either at the beginning of February or at the first local signs of Spring. Most commonly it is celebrated on February 2, since this is the cross-quarter day on the solar calendar, halfway between the Winter Solstice and the Spring Equinox in the northern hemisphere. Originally dedicated to the goddess Brigid, in the Christian period it was adopted as St Brigid's Day. In Scotland the festival is also known as Là Fhèill Brìghde, in Ireland as Lá Fhéile Bríde, and in Wales as Gwyl Ffraed.
Another holiday deriving from Imbolc was Candlemas Day and is celebrated on February 2 (Groundhog Day). Candlemas is the feast of Mary's purification and is marked by a candle procession. The ties between purification rituals and the month of February also hark back to the pagan era. Indeed, our very word, "February," which derives from Latin, unmistakably designates the month as a time for purification (februa means "expiatory offerings"). The Lupercalia, a pagan Roman purification ritual, took place in February.
We also check to see if the Ground Hog sees his shadow that tradition is compiled of traditions from many cultures.
It is believed if the Sun is shining on that day and animals see their shadows winter will last another 6 weeks. The habits of Animals have long been used to determine the weather. Imbolc is traditionally a time of weather prognostication, and the old tradition of watching to see if serpents or badgers came from their winter dens is perhaps a precursor to the North American Groundhog Day The earliest American reference to Groundhog Day can be found at the Pennsylvania Dutch Folklore Center at Franklin and Marshall College.
But even before our famous Punxsutawney Phil in Pa, Germans watched a badger for the shadow.
There are several opinions as to the origin of Valentine's Day here are just a few.
In Ancient Rome, February 14th was a holiday to honor Juno, Queen of the Roman Gods and Goddesses. The Feast of Lupercalia started the next day.
During these times boys and girls were segregated. However, the young people had a custom that began on the eve of the Festival of Lupercalia. The girl's names were written on pieces of paper and inserted into jars. Each boy then drew a girl's name from the jar and they were partners throughout the Festival. After being paired, the children would often continue to see each other throughout the year and on occasion even fell in love and got married.
St. Valentine, a Roman who was martyred for refusing to give up Christianity. He died on February 14, 269 A.D., the same day that had been devoted to love lotteries. Legend also says that St. Valentine left a farewell note for the jailer's daughter, who had become his friend, and signed it "From Your Valentine". Other aspects of the story say that Saint Valentine served as a priest at the temple during the reign of Emperor Claudius. Emperor Claudius II of Rome, also known as Claudius the Cruel was having a difficult time recruiting men as soldiers. He believed that the men did not want to leave their sweethearts and cancelled all engagements and marriages throughout Rome. St. Valentine, a priest of Rome at the time, secretly married couples. He was eventually caught, arrested and condemned. In 496 A.D. Pope Gelasius set aside February 14 to honour St. Valentine.
That is some of the things we celebrate in Feburary and a bit of history behind the celebrations.


How Did We Celebrate??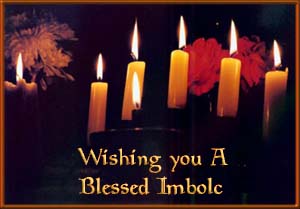 Imbolc was usually celebrated by lighting sacred fires ( Brigit was the Goddess of Fire, the Fire of Healing and Birth). Bonfires and candles too were lit. Imbolc is variously known as the Feast of Saint Brigid (Secondary Patron of Ireland), Lá
Fhéile Bríde, and Lá Feabhra - the first day of Spring.
Ground Hogs Day is a simple celebration it is a time of weather predictions using our animal friends. America uses the Ground Hog, In Ireland and Wales it was the serpant and rabbit emerging from its burrows. The belief was that if candlemas was clear and bright there would be six more weeks of winter weather.
The Roman Catholic Church turned this celebration into Candlemas, the day when the candles that were to be used in the church in the coming year were blessed.
Candlemas was celebrated with a festival of lights. In the dark and gloomy days of February, the shadowy recesses of medieval churches twinkled brightly as each member of the congregation carried a lighted candle in procession around the church, to be blessed by the priest. Afterwards, the candles were brought home to be used to keep away storms, demons and other evils. This custom lasted in England until it was banned in the Reformation for promoting the veneration of magical objects. Even so, the symbol of the lighted candles had too strong a hold on the popular imagination to be entirely cast aside. Traces of the festival lingered until quite recently in other areas of the British Isles like little lights that refused to be blown out. In Wales, Candlemas was known as Gwyl Fair y Canhwyllau, Mary's Festival of the Candles, and was celebrated as late as the 19th century by setting a lighted candle in the windows or at the table on this night. Special Candlemas carols were sung by singers who processed from house to house.
February 14 became the date for exchanging love messages and St. Valentine became the patron saint of lovers. The date was marked by sending poems and simple gifts such as flowers. There was often a social gathering or a ball.

Celebrations and Rituals Now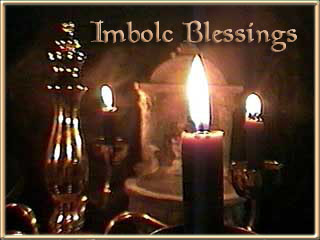 Ways to celebrate Imbolc now: Lighting candles, seeking omens of Spring, storytelling, cleaning house, bonfires, indoor planting, stone collecting, candle kept burning dusk till dawn; hearth re-lighting if you use a fire place or wood burning stove in your home. This Sabbat is a time of cleansing and newborn lambs, a good time for the Blessing of seeds. It is a festival of the Maiden in preparation for growth and renewal. Imbolc is a time to honor the Virgin Goddesses, along with the first signs of returning life in a frozen Winter Wonder land in many place.

Rituals/Magic associated with this holiday are:
Cleansing; renewal, creative inspiration, purification, initiation, candle work, house & temple blessings, welcoming Brigid, feast of milk & bread.

Items associated with Imbolc: White flowers, marigolds, plum blossoms, daffodils, Brigid wheel, Brigid's cross, candles, grain/seed for blessing, red candle in a cauldron full of earth, doll, Bride's Bed; the Bride, broom, milk, birchwood, snowflakes, snow in a crystal container,evergreens, homemade besom of dried broom, orange candle annointed in oil used to sybolize the renewing energy of the Sun's rebirth.

Crafts for Imbolc rituals and decorations: Candle Wheels, Grain Dollies, Sun Wheels, Brigid's Bed
Candle Wheels:
Candle Wheels are generally round decorated "crowns" made of straw or some type of natural woven substance which is ringed with either eight or thirteen red, pink or white candles and decorated with colored ribbons.
Creating at Candle Wheel:
Materials:
craft wreath
eight white candles
ivy vines
Ribbon Red or White
glue gun

1. Either drill thick holes into the wreath so that candles can be placed inside or just secure them with screw-bottom candleholders or using the glue gun. Make sure candle holders/candles are secure and do not wobble.
2. Wrap the Ivy vines around the wreath base until the base of the wreath is completely covered secure the vine ends with hot glue.
3 Now apply your ribbon, it may be intertwined through the greenery. Make sure the ends are secured and will in no way come in contact with the candles.
The eight candles are symbolic of the eight spokes of the year. In ritual, the candles can be lit with a cauldron or bowl placed in the middle of the candle wheel


Brigid's Bed
Materials:
basket, box, doll cradle or similar item
padding to make receptacle like a bed
figure to represent the goddess Brigid[may be a corn dolly, Brideo'gas [direction in Imbolc 2008].
Directions:
1. Dress up the basket, box, cradle or other item you've selected to make a bed. Make it comfortable and decorate it as you wish.
2. Make a figurine to represent Brigit. This can be made with a bundle of oats, rushes, straw, or any grain or craft material fashioned into a loop or slightly human shape. You can even use a doll. It can be simple or ornate, and can even can dressed, preferably in white (to represent the Maiden). If you like, you can make a god figurine as well.





Notions, Potions and Spells w/ Lady Wyndesong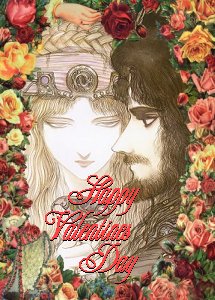 Normally we would use this area to address notions, poitions and spells appropiate to Imbolc. We will do that, but we will also address spells to deal with what is most on everyones mind these days and that is finances and careers.

Business Incense
2 parts Gum Benzoin
1 part Cinnamon
1 part Basil

Success Incense
1/4 part Frankincense
1/2 part Sweet Woodruff
1 1/2 part Vetivert
1/4 part Angelica
1 part Sandalwood

House Purification Incense
Frankincense 3
Dragons Blood Resin 2
Myrrh Resin 1
Sandalwood 1
Wood Betony 1
Dill Seed 1/2
Rose Geranium Oil few drops

Three Candle Money Spell
3 white candles
a writing utensil
Cinnamon Oil

Create your protective circle, then inscribe the amount of money you need on each candle anoint the candle [from the wick down] with the cinnamon oil now light the middle candle and use it to light the other two. As you light each candle focus on the amount of money you have inscribed on each candle and say: by earth air water and fire I now have the[amount of money inscribed on the candle]I desire. Now close your eyes and visualize that amount of money arriving in a check or seeing it on your bank statement. When you have finished the visualization say: My money is near my money is here, as I so will it so it must be immediately, and for this I give thanks that it is so and so it is.

Spirit Blessing Bath Salt
1 cup salt
8 drops violet oil
4 drops ylang ylang oil
8 drops wisteria oil
4 drops sandalwood oil

Aura of Venus Bath Salts[for love]
1 cup of salt
4 drops rose oil
4 drops of musk oil
8 drops of jasmine
4 drops of lavendar
4 drops of frangiapani oil
mix well in sealed container.
[found in Moon Magic D.J. Conway]

,b>Spicy Rose Potpourri
1/4 oz broken whole cloves
1/2 oz cinnamon powder
1/2 oz powdered all spice
1/2 oz powdered orris root
1/2 oz rose pedals
5 drops of rose oil

Be My Valentine Potion
2 cups of milk
1 teaspoon sweetened cocoa
a Dash of cinnamon
a Few Drops of Vanilla
9 Marshmallows
Heat milk slowly stirring in each ingredient ..Add the marshmallows last With each Marshmallow you put into the potion Imagine your Valentine being yours and feeling fantastic pour into cups and sip with the one you wish to be your valentine.
Makes 2 cups.
[Milk= goddess energy, nurturing]
[cocoa/chocolate=lifting emotions and love]
[cinnamon=love power]
[vanilla=love, passion, inspires happiness]
[marshmallows=psychic awareness, creation]

Love Oil Spell
a red candle
a tiny vial of rose oil[1/8 oz or less]
a tiny quartz crystal [small enough to fit into the vial]
Create your protective Circle, Light your candle, hold the vial of oil in your hand rolling it between your hands until it is warm, add the tiny crystal. Now hold the bottle in your power hand and say: Oil of love, caring, sharing and passion
Bring the Joy and happiness of true love to me
By the power of earth ,air, fire and water as I will so it must be. Place the vial on your altar or in a safe place for 14 days. When you are ready to meet the special someone begin wearin the oil only a drop is necessary, wear when you go to social events etc..
Food For Romance/ Dining for Two with Lady Dyanna
Mulled Herb Wine
1 cup of boiling water
1/8 teaspoon of rosemary leaves crushed
1/4 teaspoon of mint flakes/leaves crushed
5 whole cloves
1 cup of wine[your choice]
1 stick of cinnamom
Pour boiling water over rosemary leaves and mints, steep for 15 minutes add the cloves and steep another 15 minutes, strain and mix this liquid with the wine in a pan, place over low heat until hot, add the cinnamon stick and serve hot.


Marc Anthony's Pasta Passionata

1 small can of minced clams
Fresh Garlic
1 small can of Italian Tomatoes drained; reserve juice
Olive Oil
Grated Parmesean cheese
Salt
pepper
Linguinne or spaghetti cooked for two

Combine the clams, garlic to your taste and tomatoes in a small saucepan over low heat. Bring to simmer, Stir in 1 or 2 teaspoons olive oil just a bit of tomato juice [trust your instincts] parmesan cheese, salt, and pepper taste as you add spice for the perfect balance . pour over the pasta serve with candlight and wine of your choice. Yields 2 servings
Magickal Attributes: Passion


Chocolate-Covered Strawberry Cakes
Ingredients
1/2 cup butter
1 cup sugar
1/3 cup unsweetened cocoa powder
1 egg
1 teaspoon vanilla
1 cup all-purpose flour
1/2 teaspoon baking powder
1/4 teaspoon baking soda
1/8 teaspoon salt
3/4 cup milk
1/4 cup strawberry jam
Bittersweet Chocolate Ganache
12 medium strawberries
3 ounces bittersweet and/or milk chocolate curls

Directions
1. Preheat oven to 350 degrees F. Grease and flour or line with paper bake cups twelve 2-1/2-inch muffin cups; set aside.
2. In a large saucepan, melt butter over medium heat. Remove from heat. Let cool for 5 minutes. Stir in sugar and cocoa powder until combined. Add egg and vanilla. Using a wooden spoon, beat lightly just until combined.
3. In a small bowl, stir together flour, baking powder, baking soda, and salt. Alternately add flour mixture and milk to chocolate mixture, beating by hand after each addition. Spoon batter into prepared muffin cups, filling each two-thirds full.
4. Bake for 15 to 20 minutes or until a toothpick inserted near the centers comes out clean. Cool in muffin cups on a wire rack for 10 minutes. Using a knife, loosen the edges; carefully remove cupcakes. Cool completely on a wire rack.
5. If cupcakes don't have paper liners, trim a thin slice from top of each cupcake so they will sit flat. Turn bottom side up. Place cupcakes 2 inches apart on wire rack set over waxed paper. (For cupcakes in liners, peel liners down but do not remove.) Spread 1 teaspoon of the strawberry jam over each cupcake.
6. Prepare Bittersweet Chocolate Ganache. (below) Spoon ganache over cupcakes, making sure to coat all sides. Place a strawberry on top of each cake. Drizzle each strawberry lightly with ganache, letting the strawberry show through. Top cupcakes with chocolate curls.
7. Bittersweet Chocolate Ganache: In a medium saucepan, bring 1 cup whipping cream just to boiling over medium-high heat. Remove from heat. Add 10 ounces bittersweet chocolate, chopped (do not stir). Let stand for 5 minutes. Stir until smooth. Whisk in 3 tablespoons butter, 1 tablespoon at a time, whisking until ganache is smooth.
8. Makes: 12 cupcakes
9. To Bake Ahead: Prepare as directed through step 4. Place cooled cupcakes in an airtight container; cover. Store at room temperature for up to 3 days or freeze for up to 1 month. Thaw cupcakes, if frozen. Continue as directed in step 5.
Magickal Attributes :Lifting emotions, Love, Zest, Intensity and Romance

Make Time For Romance
Does it seem like the "real world" is getting in the way of your relationship? You don't seem to spend as much time together as you did when you first met, When you were dating you did something very different from what you are doing now. Do you know what it was? You made time for each other!! Don't lose the important connections that are forged and reinforced by "face time" with your partner because you are too busy with every day life. It is that partner that helps make everyday life worth living. Remember that not just for this month but every month. Do something special for your relationship each month to keep it fresh, keep it romantic, this is better than all the relationship counseling in the world. Make it a joint effort. If her thing is candlit dinners for two then you the partner provide the music for dancing or the romantic after dinner entertainment. Don't let having children and responsibilities put a glitch in that it will not hurt the children to go to bed early one night of the month or to hire a sitter for them or even make it a time when the children are visiting with grandparents you get the idea. The Key is to make time for romance every month even if it is just a walk, or watchinng the sun set, the moon rise etc.. This is not the time to settle a dispute or discuss the children, bills, work etc.. it is strictly for romance. It is not about gifts of a material nature it is about giving your partner the gift of yourself, your time and undivide attention. Try it for a couple of months see if it doesn't improve and already good thing or return the romance to a partner ship that has too much work and not enough play.
Happy Valentine Everyone!!!

Relationship, Twin Flame, Soul Mate, Career, Money Advice

Seasonal Foods & Recipes
Foods:
All dairy products, curries, onions, chives, seeds, herbal tea, mutton or lamb, Poppyseed Cakes, muffins, scones, and breads, onions, garlic, raisins, spiced wines, herbal teas, poultry, pork

Poppy Seed Cake with Lemon Glaze
Ingredients
3/4 cup butter
4 eggs
2 cups all-purpose flour
1 tsp. baking soda
1/2 tsp. salt
1-1/2 cups granulated sugar
1/4 cup poppy seeds (about 1 oz.)
1 8-oz. carton dairy sour cream
1 recipe Lemon Glaze
Directions
1. Let butter and eggs stand 30 minutes. Preheat oven to 350 degrees F. Grease and flour 10-inch fluted tube pan; set aside.
2. In medium bowl combine flour, baking soda, and salt; set aside. In large mixing bowl beat butter on medium 30 seconds. Gradually beat in sugar. Beat in eggs and poppy seeds. Alternately add flour mixture and sour cream to butter mixture; beat on low after each addition just until combined. Spread evenly in prepared pan.
3. Bake 40-45 minutes or until a wooden pick inserted near center comes out clean. Cool in pan on rack 10 minutes. Meanwhile, prepare Lemon Glaze. Remove and invert cake on rack; poke all over with fork tines. Brush glaze over cake. Serve immediately or cover and refrigerate. Makes 16 servings.
4. Lemon Glaze: In small saucepan heat 1/4 cup sugar, 1/4 cup lemon juice, and 2 Tbsp. butter over medium-low heat until butter is melted and sugar is dissolved. Makes 16 servings.



Double Thumbprint Cookies
Ingredients
1/2 cup butter, softened
1/4 cup granulated sugar
1/4 cup packed brown sugar
1 teaspoon baking powder
1/2 teaspoon salt
1 egg
1 tablespoon milk
1 teaspoon vanilla
2 cups all-purpose flour
1/4 to 1/3 cup cherry jam or preserves, or seedless raspberry preserves
Directions
1. Preheat oven to 375 degree F. In a large bowl beat butter with an electric mixer on medium to high speed for 30 seconds. Add granulated sugar, brown sugar, baking powder, and salt. Beat until mixture is combined, scraping sides of bowl occasionally. Beat in egg, milk, and vanilla until combined. Beat in as much of the flour as you can with the mixer. Stir in any remaining flour.
2. Shape dough into 3/4-inch balls. For each cookie on an ungreased or parchment paper-lined cookie sheet place 2 dough balls side by side with one side touching. Press thumbs into each ball to form an indentation in each. Press in center of each with thumb and taper bottom of cookie with fingers to form a heart shape. Repeat with remaining dough balls, leaving about 2 inches between cookies.
3. Bake for 7 to 9 minutes or until edges are lightly browned. Remove from oven and transfer cookies to a wire rack. While warm, fill each indentation with jam or preserves (if necessary, snip any large pieces of fruit). Cool completely. Makes about 30 cookies.
To Store: Place filled cookies in a single layer in covered storage containers and store at room temperature up to 3 days or freeze up to 3 months.

Maiden Wakes Muffins


2 cups flour
2 Carrots, grated
1/2 cup raisins
1 green apple, peeled, cored, grated
1 cup sugar
1/2 cup almonds, sliced
2 tsp. baking soda
3 eggs
2 tsp. cinnamon
2/3 cup vegetable oil
1/2 tsp. salt
2tsp.vanilla

Soak raisins in hot water, in a covered bowl, for 30 minutes. Drain thoroughly. Preheat oven to 350 degrees. In a large non-metal bowl, mix flour, soda, cinnamon, and salt. Stir in carrots, raisins, apple, and almonds. In a separate bowl, beat eggs, oil, and vanilla until well blended. Stir egg mixture in to the flour mixture until just wet. Grease muffin pan with a little butter or use cupcake/muffin cups. Divide the batter into the cups and bake for 20-22 minutes, or until golden brown. Cool for 5 minutes before removing from pan. Makes 8 servings.

Rosemary Butter Noodles
1 16-ounce package Fettuccine
1 cup Butter
1 cup Parmesan Cheese, freshly grated
1/2 cup Heavy Cream
1/2 cup Rosemary Flowers
Cook noodles in a large saucepan according to label directions or until tender, but chewy; drain well in a colander. Cream 2/3 cup of the butter in a heavy bowl with a large spoon; gradually beat in 2/3 cup of cheese alternately with 1/4 cup of heavy cream; continue beating until mixture is light and fluffy. Place the remaining 1/2 cup butter in in same saucepan; return drained noodles to pan; toss gently over low heat, until butter is melted and noodles are evenly coated. Gradually add rosemary flowers, whipped butter-cheese mixture, tossing gently over very low heat; add remaining 1/4 cup cream, then remaining 1/3 cup
cheese. Toss gently and serve immediately.

Candlemas Sunrise
Dash of nutmeg
2 eggs, seperated
2 slices toast, buttered
2 slices cheese, any kind
Preheat the broiler, Combine the nutmeg and the egg white; beat until stiff. Spread over the toast . Make a small indentation in the center, drop in the egg yolk.
Sprinkle with salt cover the yolk with 1 slice of cheese Broil unti the egg is completely cooked and the cheese is melted, 3-5 minutes. 2 servings


Atholl Brose
3 cups uncooked oatmeal
8 ounces honey
1 cup of cold water
2 pints whiskey

Stir together the oatmeal the honey and cold water. When they are thorougly mixed, slowly add the whiskey. Stir Briskley until the mixture foams. Bottle and cork tightly in steralized containers. After a couple of days remove the cork strain the mixture and it is ready for a hearty toast.


Tweed Kettle
11/2 pounds salmon
Sea Salt and pepper to taste
1/4 teaspoon ground mace [optional]
21/2 cups white wine
2 teaspoons chopped chives
1/2 stick butter, softened
1 tablespoon parsley
Zest of 1 Lemon
Simmer the salmon for 5 minutes in a pan of boiling water. Drain and remove the skin and bones. Cut the Salmon flesh into stew size pieces and season with salt, pepper and mace. Place the fish in the pan . Pour in wine sprinkle with chives and simmer , uncovered for 5 minutes. Remove the fish pieces and place them on a serving platter. Cover to keep warm. Turn up the heat to reduce the cooking liquid to appromixately 1 cup. Stir in the butter and pour the mixture over the salmon. Garnish with Lemon Zest to serve. Serves 4


Tuscan Lamb Chop Skillet
8 lamb rib chops, cut 1 inch thick
2 teaspoons olive oil
3 cloves garlic, minced
1 19-ounce can cannellini beans (white kidney beans), rinsed and drained
1 cup canned Italian-style stewed tomatoes, undrained
1 tablespoon balsamic vinegar
2 teaspoons snipped fresh rosemary
Fresh rosemary sprigs (optional)

1. Trim fat from chops. In a large skillet cook chops in hot oil over medium heat for 9 to 11 minutes for medium (160 degrees F), turning once. Transfer chops to a plate; keep warm.
2. Stir garlic into drippings in skillet. Cook and stir for 1 minute. Stir in beans, undrained tomatoes, vinegar, and snipped rosemary. Bring to boiling; reduce heat. Simmer, uncovered, for 3 minutes. Spoon bean mixture onto four dinner plates; arrange two chops on each plate. If desired, garnish with rosemary sprigs.
3. Makes 4 servings

Slow-Cooker Vegetable Curry
Ingredients
4 medium carrots, sliced
2 medium potatoes, cut into 1/2-inch cubes
1 15-ounce can garbanzo beans (chickpeas), rinsed and drained
8 ounces fresh green beans, cut into 1-inch pieces
1 cup coarsely chopped onion
3 cloves garlic, minced
2 tablespoons quick-cooking tapioca
2 teaspoons curry powder
1 teaspoon ground coriander
1/4 to 1/2 teaspoon crushed red pepper
1/4 teaspoon salt
1/8 teaspoon ground cinnamon
1 14-ounce can vegetable broth or chicken broth
1 14-1/2-ounce can diced tomatoes, undrained
Hot cooked rice
Directions
1. In a 3-1/2- to 5-quart slow cooker, combine carrots, potatoes, garbanzo beans, green beans, onion, garlic, tapioca, curry powder, coriander, crushed red pepper, salt, and cinnamon. Pour broth over all.
2. Cover and cook on low-heat setting for 7 to 9 hours or on high-heat setting for 3-1/2 to 4-1/2 hours.
3. Stir in undrained tomatoes. Cover; let stand for 5 minutes. Serve over hot cooked rice. Makes 4 servings.



Seasonal Crafts and Decorations
Colors of Imbolc
White, Pink, Red, Yellow, lt. Green, Brown

Goblet Centerpiece
Mismatched goblets come together beautifully to create a stunning centerpiece. To make this project, fill the goblets with water. Float the candles in the water and add a shake of confetti in each goblet. Arrange the goblets on a tray, along a mantel, or in the center of a table. Light the candles for a glorious centerpiece

Flight of Fancy
Dozens of colorful hearts flutter on card stock cut into the shape of a wreath. Use paper punches or scissors to cut hearts from colored vellum and lightweight decorative papers. Curl the cut-out hearts by scraping them between your thumb and a butter knife just as you would curling ribbon. Then layer them on the round card stock base and attach each with a dab of clear-drying glue, either in the center or near one edge. Hang it with ribbons.


Decorating For Fame, Good Reputation and Recognition
The area of your home that will assist you in activating your fame and good reputation. which are foundation for success is the south. There are several ways to activate the energy of fame in the south of your home. It may be done by hanging a bright light that that shines upward in that area of the house. A bright light which lights the whole southern corner gives the sense of upward moving energy. If lighting is a problem for the southern corner of your house fire in that area in the form of candles or a fire place that you use will work. If you can not use any of the above methods than try to find a picture or statue of a phoenix some substitutes for that proud bird are the peacock a picture, sculpture or even peacock feathers worked into a flower arrangement will work. The most auspicious colors for the southern corner is red, bright yellow, or white which may be reflected in the furnishing.The feathers of the peacock are used to symbolize attainment that are associated with being recognized. You may energize the south by taking the whole house into consideration or you may do this in your living room or your office.. It is best to activate this energy in a room that is used for daytime activity.
Why is being recognized important? If you own a business of any kind then you know that recognition means more customers. If you are a student or athlete etc..recognition will help you advance in your chosen field.


Aromatherapy For You with Crystal Dawn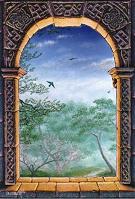 It is winter. Our skin needs extra attention this time of year especially if dry skin is a problem. We may seek help from essential oils for all types of skin problems.
Dry skin can benefit from this combination of essential oils and oil bases. Oil base Almond, Olive oil, Wheatgerm, Avocado, Carrot, Evening Primrose, Jojoba. Essential Oils for Dry to Normal Skin: Lavender, Sandalwood, Patchouli, Rosemary, Geranium, Calendula, Chamomile German.
Day Re-Moisturizing Oil:
Chamomile German 15 drops, Sandalwood 5 drops, Lavender 5 drops, Geranium 5 drops Dilute in 2 tablespoons of the base vegetable oil to which you have added 10 drops of evening primrose and 2 drops of carrot oil.
Use this in the same way you would use moisturizing cream or lotion.

Dry Skin relief in the bath requires nourishing oils such as avocado, apricot kernel , Sweet almond, use 5 drops of essential oils per 1 teaspoon of bath oil and use a teaspoon in each bath. to make it a relaxing bath you may add Lavender oil, Chamomile German, also Patchouli, Benzoin, Pettigraine are good oils for dry skin. This combination of oils will cling to your body when you get out of the tub. Simply pat your skin dry.

Rosacea:
Treatment comes in two stages each of fourteen days.
Essential Oils To treat Rosacea
Stage One: Chamomile German, Yarrow, Carrot, Parsley, Galbanum
Stage Two: Violet leaf, Cypress, Geranium, Hyssop, Eucalyptus radiata
Day Treatment Stage one Chamomile German 15 drops, Parsley 15 drops diluted in 3 tablespoons of almond oil. Place on your face and let set for 5 minutes then gently wipe of the excess.
Night Treatment: Galbanum 5 drops, Carrot 15 drops, Chamomile German 10 drops, Parsley 15 drops Dilute in 3 table spoons almond oil.
After 14 days Continue with the Stage 2 treatment if you need it
Day treatment: Cypress oil 15 drops Geranium Oil 15 drops Dilute in 3 tablespoons almond oil
Night Treatment: Violet Leaf 10 drops, Hyssop 5 drops, Eucalyptus radiata 15 drops diluted in 3 tablespoons almond oil.
The most incredible sweet orange & chili pepper cleansing bar you'll ever experience
Lessons in Spirituality with Rev Diana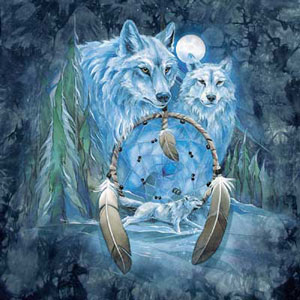 Lesson 1
Personal Power what is it? Let us begin by defining Personal Power.
Personal Power is: Power over yourself, your life, your choices, not just the small things but everything. It is an inner power that helps you to change your life and learn self mastery. It is a power that helps you respond to negative situations with a positive attitude. It gives you the strength to own your choices and by doing so to create the life you desire for yourself to, achieve what you want. Personal power solves problems and moves mountains.
Personal power is about you and your life. It is not about having power over anyone or anything else. It is very important that you remember this.
Where does personal power originate? It belongs to you it is a natural part of you. We all know that we have power as defined in the dictionary it is the ability to do, act or produce". But personal power takes that a step further and a gives you the ability to choose what to do how to act and what to produce. For example you may "act" shy but it is not helping you make friends. Your personal power kicks in and you choose to act friendly and extroverted. This choice helps you produce something you need in your life "friends". It isn't easy to make that type of change but it is very possible with the use of your Personal Power.
Personal power originates from within it is a part of your spiritual side. Properly activated personal power can and does help you make changes that can be seen and felt in the physical. We speak about the mind, body and spirit connection here we will learn that the spirit connection can give the mind and the body wings to fly with and to pursue dreams. This spirit connection has many names it can be called the Soul, Divine Consciousness, Universal Spirit, Higher Power, Divine Mind, God/Goddess Power. It is up to you what you want to call the place your personal power originates from but it is important to be comfortable with this part of you. It is from here that your happiness and your success come and from here that you are able to change your life. Consider this the doer in your life, that which gives you the ability to act. Personal power is based on the use of the absolute power available to the human being. In a world that is becoming more complex each day it is easy to feel as if you are losing control of your own life. The feeling that you must go it alone and that you are powerless to control things in your life comes when you are using only your mind or intellect to direct your life. Activating your personal power allows you to maintain control and to change things in your life as well.
But most importantly activating your personal power means you are no longer standing alone against the demands and pressures of everyday life you will now have help.
Test:
Which of these represent personal power?
[a]Allowing your friends and family to choose for you?
[b]letting your minister or teacher tell you what is best for you?
[c]Researching your choice and deciding what is best for you?

[a]Complaining about being broke and never having any money?
[b]Agreeing with your friends that things are bad and they aren't going to get better?
[c]Believing that even though you have a problem there is a positive solution and you will find it?

Emotional Freedom Technique, Spiritual Guidance & Lessons in Spirituality: Learn to control your life in all situations.

Poetry and Books
This is one of my favorite pieces of poetry.
The Invitation
It doesn't interest me what you do for a living. I want to know what you ache for, and if you dare to dream of meeting your heart's longing.

It doesn't interest me how old you are. I want to know if you will risk looking like a fool for love, for your dream, for the adventure of being alive.

It doesn't interest me what planets are squaring your moon. I want to know if you have touched the center of your own sorrow, if you have been opened by life's betrayals or have become shriveled and closed from fear of further pain!I want to know if you can sit with pain, mine or your own, without moving to hide it or fade it, or fix it.

I want to know if you can be with joy, mine or your own, if you can dance with wildness and let the ecstasy fill you to the tips of your fingers and toes without cautioning us to be careful, to be realistic, to remember the limitations of being human.

It doesn't interest me if the story you are telling me is true. I want to know if you can disappoint another to be true to yourself; if you can bear the accusation of betrayal and not betray your own soul; if you can be faithlessand therefore trustworthy.

I want to know if you can see beauty even when it's not pretty, every day,and if you can source your own life from its presence.

I want to know if you can live with failure, yours and mine, and still stand on the edge of the lake and shout to the silver of the full moon, "Yes!"

It doesn't interest me to know where you live or how much money you have. I want to know if you can get up, after the night of grief and despair, weary and bruised to the bone, and do what needs to be done to feed the children.

It doesn't interest me who you know or how you came to be here. I want to know if you will stand in the center of the fire with me and not shrink back.

It doesn't interest me where or what or with whom you have studied. I want to know what sustains you, from the inside, when all else falls away.

I want to know if you can be alone with yourself and if you truly like the company you keep in the empty moments.

by
Oriah Mountain Dreamer
copyright © 1999 by Oriah Mountain Dreamer.




Sons and Daughter of the One (Paperback)
by Dyanna Wyndefyre (Author)
Excerpt from the chapter: Treachery in the Garden
Many revolutions of Gaia passed before I returned to the Garden. I finally felt the need to return home, everything seem peaceful in the Garden so I relaxed and enjoyed being home. I spent some time looking through my brother's Record of Creation this was one way to see what was new. He was definitely perfecting his creative abilities. I noticed he had decided to name the female he had created woman. I knew that the man liked sleeping near the water in the middle of the garden but I did not see them there when I first returned. When another revolution of Gaia passed and they still did not come to be near the water I decided to go look for them. I didn't bother to change my form as I did not intend to interact with them just to see where they were and if they were okay.
I checked the entire Garden and there was no sign of them. Now I was concerned, I realized I had not checked the area where the Special tree was usually everything in the garden except the Fire Bird that I had created avoided that area. I found them lying beneath the tree. At first I thought they were asleep then I realized that there was no life force emanating from either of them. I saw on the surface between them one of the fruits it seems they had both taken a bite of it. I picked up the piece of fruit, the energy emanating from the fruit was so strong it felt like the energy we had used to create a life force in Gaia.


We hope you have enjoyed our newsletter. If you are aware of anyone else who might like to receive it or sponsor it please go here: Newsletter and request additional information
Love and Light
--The Team at (Ravenhawks')