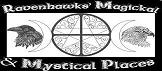 Merry Meet
Greetings
Ravenhawks Magickal & Mystical Places sent this email to you because you indicated that you wish to receive our Newsletter. If you do not want to receive further mailings from Ravenhawks, you may unsubscribe now scrolling to the bottom of this email and clicking on the unsubscribe link.
---
Litha/Midsummer
Midsummer is also sometimes referred to as Litha. Litha is(pronounced "LITH-ah"). The celebration of Midsummer's Eve was from ancient times linked to the summer solstice. People believed that mid-summer plants had miraculous and healing powers and they therefore picked them on this night. Bonfires were lit to protect against evil spirits which were believed to roam freely when the sun was turning southwards again. The solstice itself has remained a special moment of the annual cycle of the year since Neolithic times. The concentration of the observance is not on the day as we reckon it, commencing at midnight or at dawn, but the pre-Christian beginning of the day, which falls on the previous eve. In Sweden and Finland, Midsummer's Eve is considered the greatest festival of the year, comparable only with Walpurgis Night, Christmas Eve, and New Year's Eve.
It marks the first day of summer on traditional calendars, but it is actually the Midsummer mark for Pagans.

Litha marks the longest day of the year, the day when the sun reaches its apex and is aspected to zero degrees Cancer. This is a day that celebrates the God in all his glory. It is also the time of year when the Goddess is glowing with motherhood in her pregnancy.

For those of you familiar with Shakespeare, you might remember the play centered around the Solistice: "A Midsummer's Night's Dream". It is believed that Midsummer Night's Eve is a special time for those who believe in the Faerie traditions. Like Samhain, this is a day where the veils are thin between the realms of the Sidhe (the Faerie realm) and the world of mortals. It is a time for merriment and the making of wishes.
On this day the Sun God is seen at his highest point in the sky, vibrant and strong. Together with the pregnant Mother Goddess he rules the summer season. However, this is also a time of transition, for now the Sun will begin its yearly descent and the days grow shorter until the Winter solstice. The Druids viewed this day as the wedding of Heaven and Earth, Alban Heruin. The Moon of this month was known as "The Honey Moon" in testimonial to the honey mead that was drank at the wedding
celebrations so common to this time of year. It is interesting to note that the old calendars had summer beginning on May 1st and ending on Lammas, August 1st
---
Litha/Midsummer Customs and Practice
Just as the Pagan Midwinter celebration of Yule was adopted by Christians as "Christmas" (December 25), so too the Pagan Midsummer celebration was adopted by them as the Feast of John the Baptist (June 24). Occurring 180 degrees apart on the wheel of the year, the Midwinter celebration commemorates the birth of Jesus, while the Midsummer celebration commemorates the birth of John, the prophet who was born six months before Jesus in order to announce his arrival.
In England, it was the ancient custom on St. John's Eve to light large bonfires after sundown, which served the double purpose of providing light to the revelers and warding off evil spirits. This was known as "setting the watch". People often jumped through the fires for good luck. In addition to these fires, the streets were lined with lanterns, and people carried cressets (pivoted lanterns atop poles) as they wandered from one bonfire to another. These wandering, garland-bedecked bands were called a "marching watch". Often they were attended by morris dancers, and traditional players dressed as a unicorn, a dragon, and six hobbyhorse riders. Just as May Day was a time to renew the boundary of one's own property, so Midsummer's Eve was a time to ward the boundary of the city.
At the very least, most young folk plan to stay up throughout the whole of this shortest night. Certain courageous souls might spend the night keeping watch in the center of a circle of standing stones. To do so would certainly result in either death, madness, or (hopefully) the power of inspiration to become a great poet or bard. (This is, by the way, identical to certain incidents in the first branch of The Mabinogion.) This was also the night when the serpents of the island would roll themselves into a hissing, writhing ball in order to engender the "glain", also called the "serpent's egg", "snake stone", or "Druid's egg". Anyone in possession of this hard glass bubble would wield incredible magical powers. Even Merlyn himself (accompanied by his black dog) went in search of it, according to one ancient Welsh story.
Snakes were not the only creatures active on Midsummer's Eve. According to British faery lore, this night was second only to Halloween for its importance to the Wee Folk, who especially enjoyed a ridling on such a fine summer's night. In order to see them, you had only to gather fern seed at the stroke of midnight and rub it onto your eyelids. But be sure to carry a little bit of rue in your pocket, or you might well be "pixie-led". Or, failing the rue, you might simply turn your jacket inside out, which should keep you from harm's way. But if even this fails, you must seek out one of the "ley lines", the old straight tracks, and stay upon it to your destination. This will keep you safe from any malevolent power, as will crossing a stream of "living" (running) water.
This is a time to acknowledge those wild things which man culls but cannot tame, like the sheep and bees. The full moon which occurs in June is sometimes called the Mead Moon. The hives are full of honey. In ancient times, the honey was fermented and made into mead.
This is a traditional time for honoring water, perhaps because it plays such a vital role in maintaining life while the sun is blazing overhead. Several of the goddesses honored at midsummer — Matuta, Anahita and Kupala — are associated with moisture and dampness.
Midsummer Eve is also known as Herb Evening. This is the most potent night (and midnight the most potent time) for gathering magical herbs, particularly St John's wort, vervain, mugwort, mistletoe, ivy and fern seed.
This is also a time for lovers. An old Swedish proverb says "Midsummer Night is not long but it sets many cradles rocking.



---
Correspondence of Litha
The plants & herbs associated with Litha are: Plants:oak, mistletoe, frankincense, lemon, sandalwood, heliotrope, copal, saffron, galangal, laurel and ylang-ylang
Hrebs:Carnation, chamomile, cinquefoil, daisy, elder, fennel, hemp, honeysuckle, ivy, larkspur, lavender, lily, male fern, mugwort, pine, roses, Saint John's wort, wild thyme, wisteria, vervain and verbena.

Colors associated with Litha are:White, Red, Gold, Green, Blue and Tan

Stones associated with Litha: include all green gemstones, especially emerald and jade. Other appropriate gemstones are tiger's eye, lapis lazuli and diamonds


Incense and oils you can use any of the following scents, either blended together or alone: frankincense, myrrh, sandalwood, lemon, pine, jasmine, rose, lotus, or wysteria.

Animals and mythical beasts associated with Litha are: robins, wrens, all Summer birds, horses and cattle.

Mythical Being associated with Litha are: satyrs, faeries, firebirds, dragons, thunderbirds and manticores.

Gods and Goddess Associated with Litha: Father Gods and Mother Goddesses, Pregnant Goddesses and Sun Deities. Particular emphasis might be placed on the Goddesses Aphrodite, Astarte, Freya, Hathor, Ishtar, Venus and other Goddesses who preside over love, passion and beauty. Other Litha deities include Athena, Artemis, Dana, Kali, Isis, Juno, Apollo, Dagda, Gwydion, Helios, Llew, Oak/Holly King, Lugh, Ra, Sol, Zeus, Prometheus, Ares, and Thor.

Symbols for Litha:fire, the Sun, blades, mistletoe, oak trees, balefires, Sun wheels and faeries. Altar decorations might include Summertime flowers - especially sunflowers - love amulets, seashells, aromatic potpourri and Summer fruits.

Foods of Litha-fresh vegetables of all kinds and fresh fruits such as lemons and oranges. Summer squash and any yellow or orange colored foods. Traditional drinks are ale, mead, and fresh fruit juice.



---
Notions Potions and Spells
Herb: St John's Wort
St. John's Wort is a hardy perennial that grows wild all over the world. It has the peculiar property of "bleeding" when the flowers are pinched, and because of this, it has been linked extensively to magical lore and witchcraft. The leaves and stems also contain red sap, but it is not as bright red as the sap from the flowers. There are 400 species of St. John's Wort found throughout the world, it has been used as a medicinal for thousands of years, but has only recently been studied for its medicinal value. Now proven to have many highly active compounds including rutin, pectin, choline, sitosterol, hypericin and pseudohypericin. The flowers and leaves are medicinal as analgesic, antiseptic, antispasmodic, aromatic, astringent, cholagogue, digestive, diuretic, expectorant, nervine, resolvent, sedative, stimulant, vermifuge and vulnerary.
It has no real uses as a culinary herb because of it's bitter taste, but small amounts of the leaf can be used in green salads if so desired.

Magickal Properties: St. John's Wort-Masculine Sun/Fire-
FOLK NAMES:Amber,Fuga daemonum (Latin: Scare Devil),Goat Weed, Herba John, John's Wort,Klamath Weed,Sol Terrestis,
Tipton Weed.
POWERS: Banishing, Calming, Happiness, Health, Love, Protection,
Strength.
Use the leaves in a necklace to ward off sickness and tensions.
Carry to strengthen your courage and conviction, or when about to confront a nasty situation. Burn to repel and banish negative
thoughts and energies from yourself or others. St. John's Wort wards off fever and cold, makes soldiers invincible, and attracts love. When gathered on Midsummer or on a Friday and worn it will keep mental illness at bay and will cure melancholy/depression.
It is dried over the Midsummer fires and hung near the window to keep ghosts,necromancers and other evildoers from the house,
and is burned to banish spirits and demon.

Stone: Jade is a semi-precious stone that ranges in color from green to white to lilac to brown to almost black. Translucent jade is more highly valued than opaque jade. Jade is often cabochon set; stones with imperfections are often carved (the imperfections are simply carved away). Two different minerals are known as jade: jadeite and nephrite. Jadeite is the harder of the two; it is usually used in jewelry production. Nephrite is slightly softer and is often veined; it is used in carvings, for making beautiful bowls and vases. The Chinese have prized jade for thousands of years and regarded it as having medicinal properties when worn or ingested as a powder.

Healing and magickal property: Keeps wife and mother safe. Dispels negativity. Powerful in balancing emotions. Encourages change, heroism. Promotes idealism and beauty. Increases fertility, longevity. Provides wisdom when evaluating issues or problems. Brings needed energy.
Facilitates healing, meditation, astral travel and development of higher psychic abilities. Improves concentration. Encourages education. Considered a "Dream Stone." Benefits eye disorders, kidney stones and female discomfort.

Color:Gold=Physical strength, power, success, fast luck, attracts higher influences, money, fortune, healing energy, understanding, intuition, and solar deities. Brotherhood, health, success, universal love, wealth, winning, masculine energy, happiness, playful humor, safety, great fortune, divination, attracts cosmic influences, attracts Solar energy.

MIDSUMMER INCENSE #1
2 parts Sandalwood
1 part Mugwort
1 part Camomile
1 part Gardenia petals
a few drops Rose oil
a few drops Lavender oil
a few drops Yarrow oil

Litha Incense
1 part each
Dried and Grated Lemon Rind
Dried and Grated Orange Peel
Dried Patchouli Leaves
Myrrh
2 parts each
Dried Rose Petals
Dried Lavender


Litha Oil
1 oz. Of light weight carrier oil such as grape seed
5 drops Lavender e.o.
5 drops Sandalwood e.o.
1 drop each peppermint and spearmint e.o.
2 drops Heliotrope e.o.

Midsummer's Eve Magick Potion
2 cups boiling water
3 chamomile tea bags
6 rose petals
1 pinch lavender
1 clove
dash of nutmeg
dash of dried ginger
place all ingredients in a ceramic teapot and pour the boiling water over them. Serve warm or chilled makes about 2 cups.
(recipe by Sirona Knight " The Witch and Wizard Teaining Guide")

Protection potpourri
dill, St John's Wort, tarragon, periwinkle, basil, angelica, rosemary
add cloves and cinnamon use a few drops of peppermint oil. lemon verbena oil, and lavender oil.
Place in a bowl or container.
Charge it with the powers of protecion for your home and family.
Locate it centrally in your home. The same herbs may be used to create a sachet for use in individual rooms or to carry with you use only the herbs and no oils to create the sachet. Place it on a square of cloth and tie with yarn or ribbon.

---
Creating your own Midsummer Customs
Here are a few ideas for creating your own Midsummer customs.
It is the longest day of the year. There are 12 hours of day light.
Go camping. Go out into the woods or up into the mountains or down to the beach. Find some place where you can build a bonfire and light it when the sun sets. Bring along plenty of flowers especially roses or yellow flowers like calendulas, St John's wort, or marigolds.
Indoors, use whatever symbols represent light and warmth to you
Use sunflowers and other yellow flowers to decoraote your house. Lots of yellows and golds to represent the sun and light.
Gather your herbs for maximum potency.
Acknowlege the gift of water in everyday life. Go to the nearest body of water an make a wish.
Honor your strenght, sun is associated with will, vitality, accomplishment, victory and fame.
Today is a day you can be proud of your personal strengths and accompolishments. Gathers your friends and have a celebrations tht honors the accopolishments and achievements of each of you.
A cup of honey mead and a bon fire would be the perfect topping to this celebrations as you brag of yur strengths toss some of the flowers tht you have gathered on the flames.

---
Foods of Litha
Litha Recipes

RECIPES
Sun's Up Cobbler

1-1lb 14oz can (3 1/2 cups) halved peaches
3 slices slightly dry bread (toast on light)
1 tbs. cornstarch
1/4 cup butter or margarine, melted
1/4 tsp. salt
1/3 cup sugar
1 tbs. lemon juice
1/2 tsp. ground cinnamon
1/4 cup butter or margarine
1/4 tsp. ground nutmeg

Drain peaches, reserving 1 cup syrup. In a pan, combine cornstarch and salt and slowly blend in reserved syrup. Over med-high heat, cook and stir until mixture comes to a boil. Reduce heat and cook and stir for 2minutes. Add lemon juice, butter or margarine and peaches. Heat JUST to bubbling. Pour into 10x6x11/2 inch baking dish.

Cut bread lengthwise into 1 inch strips. Dip into 1/4 cup melted butter, then into mixture of sugar, cinnamon, and nutmeg. Arrange over peaches. Bake at 375 degrees for 25 minutes or until toasty. Serve with cream (optional) Makes 6 servings.


Berries and Cream
1/2 lb. strawberries
1/2 lb. blueberries
1/2 lb. raspberries
1/2 lb. blackberries
1 pint heavy whipping cream
1 tsp. sugar

Toss the berries gently in a large bowl. With beaters that have been chilled in the fridge for two hours, whip the cream until thick and light and it forms stiff peaks. Sprinkle berry mix with sugar and spoon into serving bowls. Smother berries with whipped cream and serve.

Litha Cookies
Yields 36ct.

3/4c softened butter
2c brown sugar
2 eggs
1 T lemon juice
2 T grated lemon rind
2 c sifted flour
1c finely chopped pecans.
Cream butter in a large non-metallic mixing bowl. Gradually add the brown sugar, mixing well. Add eggs, lemon juice, and rind, then mix well until mixture is well blended.
Cover the bowl with a white or yellow towel or cloth napkin, and refrigerate overnight. The next day, shape dough into 1" balls and place approx 3" apart on a greased cookie sheet. Bake at 375 degrees for abut 20 minutes. Cool on racks.

Honey Raspberry Iced Tea
c. freshly brewed tea
2 c. cranberry-raspberry juice
1/4 c. honey

Mix the honey into the tea when it is still warm,
stirring until the honey disolves. Add the juice
and chill. Serve over ice

Blueberry Iced Tea
4 c. fresh or frozen blueberries
2 c. water
1 c. sugar
Prepared Iced Tea

Rinse and drain blueberries as needed if they are frozen.
Place blueberries in a saucepan with water. Bring to
a boil and reduce heat to medium high. Simmer 10 minutes.
Set a sieve or colander lined with cheesecloth over a
bowl and pour in the blueberry mixture. Gently press
out the juice with a spoon or be twisting the cheesecloth.
Discard the pulp and measure the juice into a saucepan.
Add 1/2 c. of sugar for each cup of juice and cook over
medium heat, stirring until the sugar is dissolved.
Boil for two minutes and then remove from the stove.
Chill in a covered jar. Add two Tbsp of the mix to
each glass of prepared iced tea. Stir well and garnish
with lemon. Store any remaining mix in the fridge.

Honey Mustard Barbecued Chicken

1 cut-up chicken
1 cup honey
3 tbs mustard
2 cloves garlic, minced
* cup cooking sherry
2 tbs fresh parsley, minced
* cup olive oil
Wash and pat dry the chicken. Combine the remaining ingredients in a small bowl. Brush the chicken with the mixture, cover, and refrigerate for an hour. Grill over a low flame, brushing frequently with the sauce. Try experimenting with different flavor mustards

Orange Honey Butter

2 Tablespoons Grated Orange Rind
3 Tablespoons Powdered Sugar
1/2 cup Unsalted Butter, at room temperature
1 Tablespoon honey
Combine the orange rind, powdered sugar, butter and honey in a small bowl and blend until well mixed. Chill slightly and serve with scones or biscuits.

Cucumber Salad
1/2 cup sour cream
2 tablespoons chopped parsley
2 tablespoons white wine vinegar
1 tablespoon granulated sugar
1 tablespoon chopped chives
3 small cucumbers, thinly sliced

Combine the sour cream, parsley, vinegar, sugar, and chives. Gently fold in cucumbers. Cover and chill.

Soft Mead
1 quart water, preferably spring water
1 cup honey
1 sliced lemon
1/2 tsp. nutmeg

Boil together all ingredients in a non-metallic pot. While boiling, scrape off the rising 'scum' with a wooden spoon. When no more rises add the following:

pinch salt
juice of 1/2 lemon

Strain and cool. Drink in place of alcoholic mead

Midsummer Ritual Mead
2 1/2 gallons water
1 cup each: meadowsweet herb, woodruff sprigs, heather flowers
3 cloves
1 cup honey
1/2 cup brown sugar
1 cup barley malt
1 oz brewer's yeast
Pour water into a large pot/cauldron. Bring to a boil and add herbs and cloves. Boil for an hour and add honey, brown sugar, and barley malt. Stir thirteen times in a clockwise direction and remove from heat. Strain through a cheesecloth and allow the mead to cool. Stir in brewer's yeast. Cover with a towel and let stand for one day and night. Strain, bottle, and store in a cool place until ready to serve. This is an ideal drink to serve at Summer Solstice.


---
Litha Crafts
Citrus Wreath
Welcome birds and butterflies to your yard with this colorful and delectable wreath


You will need:

Oranges (and apples)
Rose hips (you can substitute bunches of juniper, bayberry, or bittersweet)
Hemlock boughs
Knife
Wire cutter
Grapevine wreath, wire, and florist picks (available at crafts stores)

Step 1 Instructions:
1. Gather bunches of hemlock stems and attach to wreath by wrapping with wire. Secure branches of rose hips or other berries the same way. Work section by section until you cover the wreath.

Step 2 . Cut oranges and apples into halves and sections. Attach to the wreath, pulp side out, using florist picks. Periodically, replace eaten fruit with fresh pieces

Bouquet with Wildflowers
Perfect for your altar or youd dining room table
You will need:

Flower-pot-sized container
Garbage bag (if container is porous)
Oasis
Knife
Matches and/or candle
4 small hydrangea, 4 Sunflowers, 5 Queen Anne's Lace,
6 Windflowers and 8 Poppies
Filler flowers (white, yellow and red with small, tightly-packed blooms no larger than 1/2 inch and petals of different shapes; about 4 small bunches of each color)

Instructions:
1. It is recommended that most stems be cut on a diagonal with a knife, preferably under water, just prior to being placed. This allows the least amount of contact with the air so the ends do not dry out or cauterize.
2. Poppy stems, however, need to be cauterized to prevent them from losing sap and contaminating the water in the container. This is achieved by burning the ends of the stems.
Handling Flowers
1. Create framework. For taller arrangements, make your framework about 1-1/2 times the size of your container. Start with the tallest flower (small hydrangeas), then add a few powerful flowers (sunflowers), working around the pot and keeping it loose but balanced.
2. Allow flowers to fall naturally when stems are firmly in place to create a free look. Continue to add tall flowers until the arrangement takes shape. View from different angles to make sure it is balanced.
3. Add contrast, punch. Once the height and shape have been established, break it up with bright-colored flowers (windflowers and poppies). Before placing poppies, their stems need to be cauterized. Continue to keep free-flowing and loose, creating a nice form and viewing from all angles.
3a. Using flowers with small bunches of blossoms, fill in spaces between flowers

Litha Potpourri
If you just can't wait for summer to arrive you can try this pretty summer potpourri . The mix needs to "cure" in a covered container for about 4 weeks which would be just in time for Midsummer.

Dried Flowers and Herbs
2 cups red rosebuds
1 cup grape hyacinth flowers
1 cup sweet pea blossoms
1/2 cup lavender flowers
1/2 cup lemon verbena flowers
1/2 cup mint leaves

Essesntial Oils
20 drops tuberose oil
8 drops bergamot oil
4 drops lemon verbena oil

Fixative
1/4 cup mixed ground cinammon and ground cloves

Finishing Touches
1/4 cup pressed and gilded pansy flowers
1/4 cup blue star confetti


---
Childrens World
Litha Berry Salad
Ingredients
1/4 cup orange juice
1 tablespoon salad oil
2 teaspoons honey mustard or Dijon-style mustard
1 teaspoon sugar
1/4 teaspoon salt
4 cups torn lettuce
1-1/2 cups fresh blueberries, raspberries, quartered strawberries, and/or canned mandarin orange sections, drained
2 tablespoons bite-size cheddar fish-shaped or pretzel crackers or 1 tablespoon shelled sunflower seeds

Directions
1. For dressing, in a screw-top jar combine orange juice, oil, mustard, sugar, and salt. Cover and shake until combined. Place lettuce in medium bowl. Drizzle with dressing; toss to coat. Divide lettuce among 4 plates.
2. Arrange fruit on lettuce. Sprinkle with crackers. Serve immediately. Makes 4 side-dish servings.




Bright Memories Parfait
1 2¾ oz package vanilla custard mix (no bake type)
2 cups milk
2 3oz packages cream cheese, softened
½ tsp. vanilla
1 1lb 5oz can pineapple pie filling

In sauce pan prepare custard according to the package directions using the milk. Remove from heat. Gradually stir cheese into hot mixture, mixing well. Stir in vanilla. Chill custard mixture and pie filling separately until ready to serve. When ready to serve, spoon alternate layers of mixture and pie filling into parfait or juice glasses.
Top with some type of berries if desired.Serves 6.

Make suns out of modeling clay and carve jolly faces on them; then bake and paint them. Be sure to poke a hole in them before you bake them so you can hang your art work or attach it to a wreathe.


---
Poets Corner
Earth Is Enough
We men of Earth have here the stuff
Of Paradise - we have enough!
We need no other stones to build
The Temple of the Unfulfilled -
No other ivory for the doors -
No other marble for the floors -
No other cedar for the beam
And dome of man's immortal dream.

Here on the paths of every-day -
Here on the common human way
Is all the stuff the gods would take
To build a Heaven, to mold and make
New Edens. Ours is the stuff sublime
To build Eternity in time!
- Edwin Markham



Shall I compare thee to a summer's day?
Thou art more lovely and more temperate:
Rough winds do shake the darling buds of May,
And summer's lease hath all too short a date:
Sometime too hot the eye of heaven shines,
And often is his gold complexion dimm'd;
And every fair from fair sometime declines,
By chance or nature's changing course untrimm'd;
But thy eternal summer shall not fade
Nor lose possession of that fair thou owest;
Nor shall Death brag thou wander'st in his shade,
When in eternal lines to time thou grow'st:
So long as men can breathe or eyes can see,
So long lives this and this gives life to thee.

-William Shakespeare

The Fairies

Up the airy mountain,
Down the rushy glen,
We daren't go a hunting
For fear of little men;
Wee folk, good folk,
Trooping all together;
Green jacket, red cap,
And white owl's feather!

Down along the rocky shore
Some make their home,—
They live on crispy pancakes
Of yellow tide-foam;
Some in the reeds
Of the black mountain-lake,
With frogs for their watch-dogs,
All night awake.

Hang on the hill-top
The old King sits;
He is now so old and gray
He's nigh lost his wits.
With a bridge of white mist
Columbkill he crosses,
On his stately journeys
From Slieveleague to Rosses;
Or going up with music
On cold starry nights,
To sup with the Queen
Of the gay Northern Lights.

They stole little Bridget
For seven years long;
When she came down again
Her friends were all gone.
They took her lightly back,
Between the light and the morrow;
They thought that she was fast asleep,
But she was dead with sorrow.
They have kept her ever since
Deep within the lakes,
On a bed of flag-leaves,
Watching til she wakes.

By the craggy hillside,
Through the mosses bare,
They have planted thorn-trees
For pleasure here and there.
Is any man so daring
As dig them up in spite,
He shall find their sharpest thorns
In his bed at night.

Up the airy mountain,
Down the rushy glen,
We daren't go a hunting
For fear of little men;
Wee folk, good folk,
Trooping all together;
Green jacket, red cap,
And white owl's feather!

-William Allingham

---
The Village Crafters Gallery
The Village Crafters Gallery located at Tannersville Pennsylvania has been serving discerning customers since October 2002.We Showcase a wide variety of fine Country, Primitive, Traditional and Contemporary Gifts and Handcrafts from over 50 different Artisan. You will also find Fine Art, Seasonal Florals, Furniture, Fine wood pieces, Whimsical and functional collectibles, One of a kind Gemstones, Fossil, Sterling and Beaded Jewelry. You may also explore the extensive Celtic area which features Jewelry, music, crosses, art and more.
---
Ravenhawks' New Age Book Store
Here you will find books by Edain MyCoy,Scott Cunningham, and more, thousands of metaphysical and spiritual titles for inner as well as outer discovery -- plus deep discounts (up to 40% off!), world-wide shipping, and secure ordering. You can browse by subject (over 150 categories available, or you may use the SEARCH ENGINE on the site.
---
Ravenhawks'Magickal and Mystical Places
Ravenhawks' Shopping experience includes various affiliate shops providing unique jewelry, athames, daggers, swords, cloaks, feng shui and fountains just to name a few. Ravenhawks' Catalog brings you several varities of candles in over 150 fragrances, aromatherapy, fragrance oils, incense, crystal balls, cauldrons, wands custom made cloaks and much more
---
---
---
---






Read AND learn Tarot on your pc the
EASY way




















The Tarot software

endorsed
& sponsored by professional readers




---
I hope you have enjoyed our newsletter. If you are aware of anyone else who might like to receive it or sponsor it please go to: http://www.ravenhawks.net/newsletter.html and request additional information
Sincerely,
--The Team at (Ravenhawks')