Samhain Blessings
Ravenhawks Magickal & Mystical Places and Ravenhawks' Academy of Magick and Mysticism wish you a Blessed Samhain and a Happy Halloween.
If you do not want to receive further mailings from Ravenhawks', unsubscribe now scrolling to the bottom of this email and clicking on the unsubscribe link.
---

---
Samhain~Halloween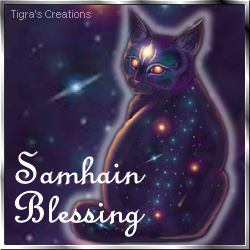 We Again reach the end of the Celtic Year. In the past our newsletter have covered samhain extensively this year we are going to cover the History briefly as well as the traditions and customs.
Samhain is pronounced sowen, soween, saw-win, saw-vane or sahven, but not sam-hayne.
Other names for Samhain include Samhuin, Samain, Saman, Oidhche Shamhna, Hallowe'en, Halloween, Hallows, Hallowtide, Shadow Fest, Allantide, Third Harvest, Harvest Home, Geimredh, Day of the Dead (Feile na Marbh), Feast of the Dead, Spirit Night, Candle Night, November Eve, Nutcrack Night, Ancestor Night and Apple Fest, Oíche Shamhna, All Hallow's Eve, Hallontide, Old Hallomas, Hallowmass, Martinmas, Martinmass, Shadowfest, Nos Calan Gaeaf, and All Soul's Day.
Samhain marks one of the two great doorways of the Celtic year, for the Celts divided the year into two seasons: the light and the dark, at Beltane on May 1st and Samhain on November 1st. Some believe that Samhain was the more important festival, marking the beginning of a whole new cycle, just as the Celtic day began at night. For it was understood that in dark silence comes whisperings of new beginnings, the stirring of the seed below the ground. Whereas Beltane welcomes in the summer with joyous celebrations at dawn, the most magically potent time of this festival is November Eve, the night of October 31st, known today of course, as Halloween.


---
Samhain~Halloween Customs and Practices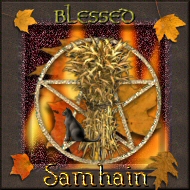 This major festival has several aspects. It is considered the third (meat) harvest, New Year's Eve, the Day of the Dead (the dead are honored as they were by the ancient Celts & Egyptians and even now in Mexico) and a night that the veil between the physical and spiritual worlds is thinnest. It is thought that divination is easier and more powerful, the fairy folk create mischief on this night, and that our lost loved ones are nearer to us (and thus easier to contact) for this reason. One reason to contact those who have passed on would be to strengthen our karmic ties to them in order to be assured we will incarnate in our next life with them.
Even today, bonfires light up the skies in many parts of the British Isles and Ireland at this season, although in many areas of Britain their significance has been co-opted by Guy Fawkes Day, which falls on November 5th, and commemorates an unsuccessful attempt to blow up the English Houses of Parliament in the 17th century. In one Devonshire village, the extraordinary sight of both men and women running through the streets with blazing tar barrels on their backs can still be seen! Whatever the reason, there will probably always be a human need to make fires against the winter's dark.
---

---
Correspondence of Samhain~Halloween

The Plants and Herbs of Samhain~Halloween:
Allspice, broom, comfry, dandelion, deadly nightshade, mugwort, catnip, dittany of Crete, ferns, flax, fumitory, mandrake, mullein, dragon's blood, sage, straw, thistles, oak(leaf), wormwood (burn to protect from roving spirits
Colors associated with Samhain~Halloween:
Black (ward off negativity), orange (good luck), indigo, homemade apple or mint scented herbal candles to light jack-o-lanterns or for altar candles
Stones associated with Sanhain~Halloween:
Black stones, jet, obsidian, onyx, carnelian
Incense and oils you can use any of the following scents, either blended together or alone:
Frankincense, basil, yarrow, lilac, camphor, clove, wood rose, wormwood, myrrh, patchouli, apple, heliotrope, mint, nutmeg, sage, ylang-ylang
Animals and mythical beasts:
Bats, cats, dogs, pooka, goblins, medusa, beansidhe, harpies
Gods and Goddess Associated with Samhain~Halloween:
Anubis, Arianrhod, Astarte, Baba Yaga Beansidhe (Banshee), Belili, Bran, Cailleach Beara, Cernunnos, Cerridwen, Crone , Dark Lord & Lady, Demeter, Hathor, Hecate, Hel, Horned God, Inanna, Ishtar, Isis, Kali, Kore, Lakshmi, Lilith, the Morrigan, Nephthys, Odin, Osiris, Oya, Persephone, Pomona, Rhiannon, Tlazoteotl

Symbols for Samhain~Halloween:
apples, autumn flowers, acorns, bat, black cat, bones, corn stalks, colored leaves, crows, death/dying, divination and the tools associated with it, ghosts, gourds, Indian corn, jack-o-lantern, nuts , oak leaves, pomegranates, pumpkins, scarecrows, scythes, waning moon
Foods of Samhain~halloween:
apples, apple dishes, cider, meat (traditionally this is the meat harvest) especially pork, mulled cider with spices, pomegranates, potatoes, pumpkins, pumpkin bread, pumpkin pie, roasted pumpkin seeds, squash
Activities of Samhain~Halloween:
Ancestor altar, costumes, divination, carving jack o' lanterns, spirit plate, the Feast of the Dead, feasting, paying debts, fairs, drying winter herbs, masks, bonfires, apple games, tricks, washing clothes
Spell Work of Samhain~Halloween:
Foreseeing future, honoring/consulting ancestors, releasing the old, power, understanding death and rebirth, entering the underworld, divination, dance of the dead, fire calling, past life recall





---
Notions Potions and Spells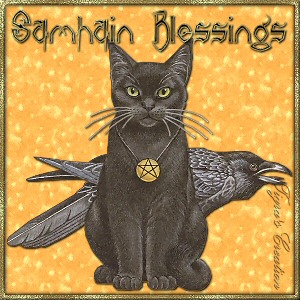 Samhain Incense:
2 parts Cinnamon
1 part ground cloves
1 part Dragon's Blood resin
1 part Hyssop
1 part Patchouli
2 parts Rosemary
1 part Sage
A dash of sea salt

Samhain Oil
3 drops Rosemary oil
3 drops Pine oil
3 drops Bay oil
3 drops Apple oil
2 drops Patchouli oil
Use jojoba oil or almond oil for base



Samhain Incense
2 tsp. frankincense
2 tsp. sandalwood
2 tsp. poppy seeds
1 tsp. gum arabic
1 tsp. myrrh
½ tsp. bay
½ tsp. thyme
¼ tsp. jasmine flowers
¼ tsp. rose petals


New Beginnings
Candles: Red and yellow
Incense: Birch
Light your incense and your candles
Then Say:
All that is past all that is old I now release and no longer hold.
This is my time of transformation and new beginnings, I now open to Spiritual guidance from within. Make clear the proper path to serve the greatest good with mind, body and soul.
Show me how to make my world joyful, prosperous, peaceful and whole.
When you have completed the words sit quietly and "see" what comes to you. Write it down.. let your candles burn out completely.


Samhain is an excellent time to do divinations. Here is a little
Potion for your bath to stimulate and replenish your psychic powers.
1/4 cup Basil
1/4 cup Lemon Balm
1/4 cup Rosemary
Place in a glass or ceramic bowl pour 2 cups of bowling water over them let it steep for 15 minutes.
Strain and add to your bath water. If you take showers then pour on your wash cloth and wipe your entire body down with the mixture.



---

---
Food to Celebrate Samhain~Halloween
Samhain Meat Pie
1 bay leaf
10 bacon slices
1 pound wild mushrooms, sliced thickly (or domestic mushrooms)
2 leeks chopped into 1 inch pieces (or onions)
3 carrots chopped into 1 inch pieces
1 chicken, cut into serving portions
3 TBS chopped parsley
3 sliced potatoes (peeled or not, your option)
1 TBS red wine vinegar
2 cloves garlic (optional)

Place the bay leaf into the bottom of a dutch oven or cauldron.
(You will need a lid.) Place half the bacon over the leaf and cover
half of the mushrooms, leeks and carrots. Place the meat pieces
atop the vegetables and then cover with the rest of the mushrooms, leeks and carrots. Season to taste, adding half of the chopped parsley, and one of the crushed garlic cloves. (Extra water or broth can be added if necessary,)
Place the potatoes on top of everything else. Add a bit more salt and pepper, the rest of the garlic and parsley. Place the rest of the bacon over this and pour the red wine vinegar over them. Place a tight lid on the pot and cook in the oven at 325 degrees (F) for two hours (2hr)
Be sure to discard the bay leaf when done

Pumpkin Cream Cheese Spread
1 8-ounce package cream cheese, softened
1/2 cup canned pumpkin
1/4 cup sugar
3/4 teaspoon pumpkin pie spice
1/2 teaspoon vanilla
Directions
Beat all ingredients in a medium mixing bowl with an electric mixer on medium speed until smooth. Cover and refrigerate for at least 1 hour or up to 24 hours. Makes 1-1/2 cups (24, 1-tablespoon servings

Baked Sweet Potato and Chile Wedges
3 1/2 lb. sweet potatoes (5 to 6 large)
2 Tbsp. olive oil
1 tsp. sea salt or 3/4 tsp. salt
1/4 tsp. ground black pepper
1/2 cup orange juice
3-1/2 tsp. chili powder
1 Tbsp. honey
1 8-oz. carton dairy sour cream
1/3 cup snipped fresh cilantro
Directions
1. Preheat oven to 450°F. Cut each unpeeled potato into 1-inch-thick wedges. Place in a large self-sealing plastic bag; toss with oil, sea salt, and pepper. Arrange in two 13x9x2-inch disposable foil pans.
2. Meanwhile, in small bowl combine orange juice, 3 teaspoons of the chili powder, and honey; set aside.
3. Bake potatoes, uncovered, 25 to 30 minutes or until tender, brushing three times with orange juice mixture, and shaking pan occasionally.
4. Meanwhile, in a small bowl combine sour cream, remaining 1/2 teaspoon chili powder, and 1/3 cup cilantro. Transfer potatoes to a serving dish; serve with sour cream mixture. Serve immediately or at room temperature. Makes 8 to 10 servings.

Chocolate de Mexicanos
Ingredients:
4 1/4 cups milk
4 ounces semi-sweet baking chocolate (melted)
5 tablespoons sugar
1/2 teaspoon cinnamon
1/2 teaspoon vanilla
1/8 teaspoon allspice
1 shot tequila
Instructions:
Place all ingredients (except tequila) in a large saucepan and bring to a boil. With a hand-held mixer or a wooden beater, beat the mixture until it stops boiling and becomes slightly frothy. Stir in tequila. Serve immediately in mugs garnished with cinnamon sticks.
Source: McCoy, The Sabbats

Clear-Sight Carrots
Ingredients:
3 cups sliced carrots
3 tablespoons butter
1 teaspoon brown sugar (optional)
1/4 teaspoon ginger
1/4 teaspoon cinnamon
Instructions:
Boil or steam the carrots until tender. Drain. Add the butter, brown sugar, ginger, and cinnamon; stir until the carrots are well-coated.
Source: Telesco, A Kitchen Witch's Cookbook



---

---
Crafts for Samhain~Halloween
Pumpkin Candleholders
CRAFT MATERIALS:
Mini pumpkins
Carving knife
Small spoon
Tapered candles
Time needed: Under 1 Hour
1. Cut the top off a mini pumpkin, making sure the hole is no bigger than a quarter.
2. Remove the seeds with a small spoon.
3. Stick a candle into the hole and enjoy dinner by candlelight

Embellished Halloween Pumpkins
Polka Dot Pumpkin
SUPPLIES & TOOLS:
• carvable pumpkin
• Spray paint - Glossy white, flat black
• 1 or 2 packages of self-adhesive felt pads
• 1/2 yd Black polka dot ribbon
DIRECTIONS:
1. Spray pumpkin with white spray paint and allow to dry.
2. Spray self-adhesive felt pads with black spray paint and
allow to dry.
3. Remove pads from sheet and place on pumpkin in
random pattern or form a specific design.
4. Tie a ribbon bow around stem.
Black Pumpkin
SUPPLIES & TOOLS:
• carvable pumpkin
• Mirrors - round & square
• Black yarn
• Black spray paint
• Hot glue gun*
• Tacky glue
• Scissors
DIRECTIONS:
1. Spray pumpkin with black spray paint and allow to dry.
2. Attach yarn into several "ribs" of pumpkin, using hot glue
at the very top and at the bottom.
3. Attach mirrors to pumpkin using both a dot of tacky glue
and a dot of hot glue. Create your own geometric design.
4. Wrap yarn around stem loosely.
*Only use hot glue gun with adult supervision.
Silver Pumpkin
SUPPLIES & TOOLS:
• carvable pumpkin
• Silver spray paint
• Brads - metallic, black, white - in round & square shapes
• Copper wire - 20 gauge
• Gold wire - 24 gauge
• Wire cutters
• Pencil
DIRECTIONS:
1. Spray pumpkin with silver spray paint and allow to dry.
2. Press brads into pumpkins, in sets of 3.
3. Wrap stem several times in copper wire. Curl ends around
pencil or brush handle.
4. Shape copper wire into a leaf and stem shape. Continue
with the length of wire, wrapping it around the original
leaf shape 3 times. Wrap smaller gauge gold wire around
original shape and then weave back through the middle
of the leaf three times. End at the bottom of the leaf and
curl end into a spiral. Attach to stem using copper wire.
Curl all ends.

Pumpkin Centerpiece
CRAFT MATERIALS:
Leaves
Pumpkin
Knife or fine-toothed pumpkin saw
Ribbon or raffia bow
Time needed: Under 1 Hour
1. Simply trace a leaf (you can use a real one or a leaf-shaped cookie cutter) onto the shell of a hollowed-out pumpkin to create a few leaf silhouettes.
2. Then use a knife (parents only) or fine-toothed pumpkin saw to cut out the shapes.
3. Adorn the pumpkin with a ribbon or raffia bow and a scattering of colorful autumn leaves.

Halloween Wish Rings
Material Needed:
Braided Grass or straw at least 12 inches long enough fo three braids.
black or orange ribbon or yarn
Instructions:
Make three rings out of the braided grass/straw
cross the ends and tie securely with the yarn or ribbon.
Several days before halloween hang them on the bushes outside your window make a wish on each one as you hang it in place. Don't look at the rings again until Halloween night to make sure your wishe come true.

click here
---

---
Childrens' World
Halloween~Samhain Food and Fun

Monster Mouths
Ingredients
2 medium green or red apples
1/3 cup peanut butter
1/3 cup candy corn
Directions
1. Core apples; cut each into 8 thick slices. Make each moth by spreading about 1 teaspoon of the peanut butter on an apple slice. Add about 5 pieces candy corn for teeth.
2. Spread another apple slice with about 1 teaspoon peanut butter; press on top of first apple slice. Makes 4 servings

Witch Hat
Ingredients
2 ounces semisweet chocolate
Chocolate-rolled sugar ice cream cone
Candy pumpkins
Waxed paper
Purchased unfrosted plain or chocolate cake doughnut
Canned chocolate icing
Nonpareils or sprinkles
Orange, yellow, and green Starburst candy or candy-coated gum ( mini Chiclets)
Directions
1. Melt semisweet chocolate according to the package instructions. Holding the open end of the cone, dip the bottom half at an angle into the melted chocolate. Immediately press candy pumpkins into the chocolate. Place the cone on waxed paper and let sit until the chocolate sets.
2. Frost the top and side surfaces of a doughnut with icing. Sprinkle icing with nonpareils or sprinkles. Center the open end of the cone on the frosted doughnut. Use a sharp knife to cut candies or gum pieces into quarters and adhere them around the bottom of the hat with icing



---

---
Halloween~Samhain Craft Fun
Pumpkin Roll
CRAFT MATERIALS:
Toilet tissue rolls
Orange fabric
Brown paper bag
Glue
12-inch green pipe cleaners
Green felt leaves

Time needed: Under 1 Hour
1.Set each roll in the center of a 22- by 18-inch piece of fabric, gather the fabric around it, and tuck the edges into the top hole .

2. For a stem, roll a strip of brown paper bag and glue the edge .

3. For a vine, glue one end of a pipe cleaner to a felt leaf, then curl the pipe cleaner around the stem . Insert the stem in the hole.

Apple-Stamp Bag
CRAFT MATERIALS:
Fabric bag (cloth grocery sacks work well)
Newspaper
Fabric paint (green, red and brown)
Paintbrush
Apple

Time needed: Under 1 Hour
1. Fold over some newspaper and insert it into the fabric bag, laying it flat so that the paint will not seep through. With a brush, use brown paint to fashion a tree trunk and let dry.

2. Then use a horizontally cut apple to make leaves by brushing a thin layer of green fabric paint onto the apple and pressing it around the top of the trunk. Repeat several times (make sure to look for the star in the print).

3. After the green paint dries, cut an apple in half vertically. Pick the side that still has the stem and brush with red fabric paint. Then "hang" juicy apples on the tree

Black Magic Cat
CRAFT MATERIALS:
Black knit cap
1 pair of kids' or women's black socks
Child-size black tights (size 4-6 or 6-8)
1 black tube sock or kneesock
Polyester fiber stuffing
2 18-inch lengths of floral wire
Scissors
1 sheet of black felt
1 sheet of gray felt
Glue gun or double-sided tape
1 sheet of orange felt
Two 1-inch googly eyes
Mouse toy
Needle and thread
Duct tape

Time needed: Afternoon or Evening [parental supervision suggested]
1. To make the body, fill the cap, socks and tights with stuffing, leaving at least 2 1/2 inches of unstuffed fabric at the opening of each article. Twist the wires together and insert them into the tail (tube or kneesock). Fold under any extra.

2. Cut out 2 notched ears from the black felt. Then cut 2 small gray felt triangles and glue or tape them to the middle of each ear.

3. Cut whiskers and 12 claws from the gray felt and a triangular nose from the orange felt. Using the glue gun or double-sided tape, affix the ears, googly eyes, whiskers and nose to the top of the cap.

4. Sew the mouse toy to the cat's mouth. Attach the claws to the tips of the two shorter socks and the tights.

5. To assemble the cat, cut a strip of duct tape 6 inches longer than the width of the cap. Center the tape over the opening of the cap and, standing outside your double-hung window, secure the cap along the bottom edge of the top window (see illustration).

6. Next, tape the front paws along each side of the head. Tape the open end of the tail to the opening of the tights, between the legs. From inside the house, tape the body to the top of the lower window (see illustration). Let the legs and tail flop down over the tape. If you like, wedge a rolled-up sock between the legs and the tape to give more arch to the cat's back


---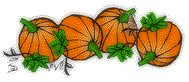 ---
Books For Young Readers
Howl's Moving Castle
by Diana Wynne Jones
Reading level: Ages 9-12
Mass Market Paperback: 336 pages
Publisher: Eos (August 7, 2001)
Language: English
If you have seen the DVD then reading the book is a must if you have read the book then see the Movie they are indeed different.
Howl's Moving Castle Book
Howl's Moving Castle DVD
Sophie Hatter is the eldest of three daughters, which in this fantasyland means that she's the one who doesn't have an astounding "fortune" to seek. Instead she's stuck at the hat shop. One day a plump, very rude woman comes to see the hats, and Sophie uncharacteristically insults her. Unfortunately, this woman is the Witch of the Wastes, and responds by aging Sophie into a crone. Peeved out of being shy and retiring, she tramps off to the "Moving Castle" of the supposedly evil wizard Howl, who reportedly [steals] out the souls of young girls.

After arriving at the castle, she encounters Howl's pleasant apprentice and contracted fire demon Calcifer (who promises to disenchant Sophie if she breaks his contract). Though she annoys the rather self-absorbed Howl and drives Calcifer almost nuts at times, Sophie becomes the cleaning lady at the Moving Castle. She begins searching for the chewed-up hearts of the girls, only to find something a lot more bizarre -- including her own peculiar magic


Miss Fiona's Stupendous Pumpkin Pies
by Mark Kimball Moulton (Author), Karen Hillard Crouch (Illustrator)
Reading level: Ages 4-8
Hardcover:
Publisher: Ideals Children's Books (September 2004)
Miss Fiona's Stupendous Pumpkin Pies
Miss Fiona is a very old woman who dresses like a witch and lives "past the spooky graveyard...in a big old haunted house". However, if she is a witch, she must be related to the Good Witch of the East rather than the Wicked Witch of the West, since her specialty is preparing MISS FIONA"S STUPENDOUS PUMPKIN PIES which she refuses to serve until midnight after all the other houses have been visited by the youngsters for their "trick or treat".


---

---
Books and Poetry
Book Review
The Art of Power (Paperback)
by Thich Nhat Hanh
Paperback: 240 pages
Publisher: HarperOne; Reprint edition (July 1, 2008)
Language: English
The Art of Power
As humanity evolves, so must power evolve. In The Art of Power, the eminent Thich Nhat Hanh presents us with a radically new vision of power for the coming age. True power, he declares, is spiritual. While the idea of spiritual power is profoundly simple, we live in an age where power is still understood as violent and dominating and spirituality is often conflated with religion and dogma. As human institutions - both institutional and interpersonal - disintegrate and decay all around us based on these outmoded and dysfunctional definitions, we are beginning to ask ourselves, "What next??" In simple, accessible, and sensitive language suitable for a wide range of readers, Thich Nhat Hanh answers this question.

Bringing his well-known "engaged Buddhism" to bear upon problems of contemporary society - from relationships, sex, and family, to business, politics, and the environment - he offers simple, straightforward practices for transforming the energy of power in real-life situations. In addition to explaining the Four Noble Truths in plain language, he presents the Five Spiritual Powers, the Five Mindfulness Teachings, and ten concrete practices to strengthen power and spiritual energy. In lively and unpretentious prose, he masterfully interweaves Zen philosophy and stories from the life of Buddha (as well as some of Buddha's lesser-known associates) with examples from his own life and the lives of others with whom he has worked in recent years. We observe how, paradoxically, impermanence, nonself, interbeing, and mindfulness form the foundation of the very peace, happiness, freedom, and prosperity we all seek on individual and collective levels. Thus, ancient wisdom finds contemporary relevance for everyone, from housewives (and househusbands) to corporate visionaries and heads of state

Seasonal Poetry

"A child looking at ruins grows younger
but cold
and wants to wake to a new name
I have been younger in October
than in all the months of spring
walnut and may leaves the color
of shoulders at the end of summer
a month that has been to the mountain
and become light there
the long grass lies pointing uphill
even in death for a reason
that none of us knows
and the wren laughs in the early shade now
come again shining glance in your good time
naked air late morning
my love is for lightness
of touch foot feather
the day is yet one more yellow leaf
and without turning I kiss the light
by an old well on the last of the month
gathering wild rose hips
in the sun."
- W. S. Merwin, The Love of October


"In the other gardens
And all up the vale,
From the autumn bonfies
See the smoke trail!

Pleasant summer over
And all the summer flowers,
The red fire blazes,
the grey smoke towers.

Sing a song of seasons!
Something bright in all,
Flowers in the summer
Fires in the fall! "
- Robert Louis Stevenson, Autumn Fires

"Autumn, and none too soon for me.
Bitter blasts unshingle the trees
and scatter the birds - the diminution
to bone branch by gale's tooth.

Ave! I welcome you, Red Harvester
of yet another year! I kindle fire
and hold my midnight watch atop a hill."
- Brett Rutherford, The Grim Reaper


"I know the year is dying,
Soon the summer will be dead.
I can trace it in the flying
Of the black crows overhead;
I can hear it in the rustle
Of the dead leaves as I pass,
And the south wind's plaintive sighing
Through the dry and withered grass.

Ah, 'tis then I love to wander,
Wander idly and alone,
Listening to the solemn music
Of sweet nature's undertone;
Wrapt in thoughts I cannot utter,
Dreams my tongue cannot express,
Dreams that match the autumn's sadness
In their longing tenderness."
- Mortimer Crane Brown, Autumn Dreams
---
I hope you have enjoyed our newsletter. If you are aware of anyone else who might like to receive it or sponsor it please go to: http://www.ravenhawks.net/newsletter.html and request additional information
Love and Light
--The Team at (Ravenhawks')